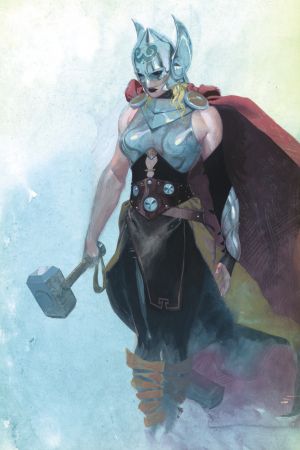 Marvel is excited to announce an all-new era for the God of Thunder in brand new series, THOR, written by Jason Aaron complimented with art from Russell Dauterman. This October, Marvel Comics evolves once again in one of the most shocking and exciting changes ever to shake one of the "big three" of Captain American, Iron Man and Thor. No longer is the classic Thunder God able to hold the mighty hammer, Mjölnir, and a brand new female hero will emerge worthy of the name THOR.

 

More on Marvel.com: http://marvel.com/ne...r#ixzz37Z443V2c
So, I was actually on board with this for a bit.  Until I read this absolutely eviscerating and well-reasoned comment on /r/comicbooks on Reddit:
 
Marvel could have tried again to elevate any number of females from Thor's world. Sif, Valkyrie, Angela or even Thor Girl. But I'm guessing since "Journey Into Mystery Featuring Sif" and "Fearless Defenders" staring Valkyrie both got the axe after 10 and 13 issues respectively, Marvel is just going to go all in and tell everyone they're replacing Thor.

 

Yes, this new female Thor will replace the Odinson of the past 50+ years and will be the ONLY Thor... for a year or two. Then, like every dead or displaced hero, Odinson will reclaim his mantle of Thor and she'll go by a different name. Just like Bucky-Cap, and just like Hawkeye-Cap or whoever the heck the new Captain America is supposed to be. Odinson will be back as Thor probably just in time for the third Thor movie, provided this idea doesn't massively backfire before then. Just like Peter Parker managed to come back to life in the comics and take back the Spider-Man identity in time for the Amazing Spider-Man 2 film.

 

I feel like Marvel looked at the moderate success of Carol Danvers as Captain Marvel and tried to one-up that, even though the situation with Carol to Captain Marvel was completely different. Every subsequent person to use the "Captain Marvel" name after the death of the original has ditched the title in favor of being called: Photon, Pulsar, Oblivion/Martyr, Botched Skrull, Protector. Danvers is more or less the only one to really make that title hers since Mar-Vell died over 30 years ago. Compare that to Thor, where there's only been one Thor, or at best two-kind-of. Beta Ray Bill wasn't Thor. Eric Masterson was just bonded with Thor and Thor eventually is freed from Masterson's mind and Masterson became Thunderstrike. Otherwise Thor has been Thor, no questions about it. Well, until this stunt now.

 

If Marvel wants to diversify, then they should work their asses off to create a big female lead on par with all of their male leads. They are on the right track with Captain Marvel. But they don't always need to take a popular male character and re-assign the gender. It reeks of Mortal Kombat pallet swapping/gender swapping. Is there no one in Marvel who has an original idea for a female superhero that can stand on her own? Is Marvel not willing to put in the time or effort to get the right creative teams on the job to rightfully elevate a female character to be on par with Captain America, Iron Man, Thor, Spider-Man, Hulk or Wolverine? Is Marvel just giving up on making Black Widow a star? And even though they are male derived characters, Marvel could be making even bigger pushes with Captain Marvel and She-Hulk since they at least have well defined characters given how long they've been around. Marvel could be doing a much better job at using the female characters they already have and then INNOVATING new ones instead of doing whatever this "THOR" business is.

 

This comic could very well be great, and I hope it is. But at the end of the day (in a couple of years), this woman will not be "THOR" any longer and it's ridiculous that Marvel is trying to act like this woman is the new permanent Thor. "This is not She-Thor. This is not Lady Thor. This is not Thorita. This is THOR." should be amended to say "This is THOR-[For A Temporary Period]."
What's everyone's opinion on this?  After considering it, I can't help but think that this is little more than a cleverly executed and possibly subvertly sexist move.