In July 1999, two months after establishing a permanent addiction to the Internet, my best friend Jedi Cool and I made our very first overnight trip together to Rosemont, Illinois, to attend Wizard World Chicago, the largest comic book convention either of us landlocked hicks has ever seen. Every year since, we've found an excuse to escape town together and see other exotic American landscapes. Not even our 2004 marriage stopped us.
* 2000: the final Gateway Science Fiction Convention in St. Louis.
* 2001: our first trip to the Superman Celebration in Metropolis, IL
* 2002: Grand Rapids, MI, to meet the Emerald Angel family for the opening of
Attack of the Clones
* 2003:
Washington, DC
* 2004:
Niagara Falls
* 2005:
San Antonio, TX, with stopovers in Arkansas and Oklahoma
* 2006:
Wisconsin and Minnesota
* 2007:
Orlando, FL
* 2008:
Virginia Beach
Thus did our 2009 vacation represent another Lego block added to our family legacy.
Normally I post these in the Cantina, but Studio Nightly is slow enough that I can safely commandeer it for our own self-aggrandizement.
Day 1: To Chicago, with Lace, OR The Night Chicago Ruled
The morning was spent dropping off the dog at the kennel, picking up the rental car and packing it up. After a couple of rough starts (I insisted on going back for an umbrella and some traveling CDs), we inched through a local McDonald's drive-thru for lunch and ate on the road. At first I kept the CDs in the back and settled for commercial radio throughout the Purdue University area, but repeated omens like Drivin-n-Cryin' and AC/DC's "Highway to Hell" kept trying to haunt the first leg of our trip, so I had to put that to a stop.
Several hours later, we arrived in the Chicago suburb where our hotel was and where we had arranged to pick up Lace from work. JC went inside and tried not to feel like an out-of-place tourist, but all went well. Lace directed us to her neck of the woods where she gave us a driving tour of Riverside, IL, and we got a chance to see her famous garden for ourselves, as seen in
Better Homes & Gardens
, June 2008.
Lace's backyard, nurtured and cultivated into absolute vast prettiness.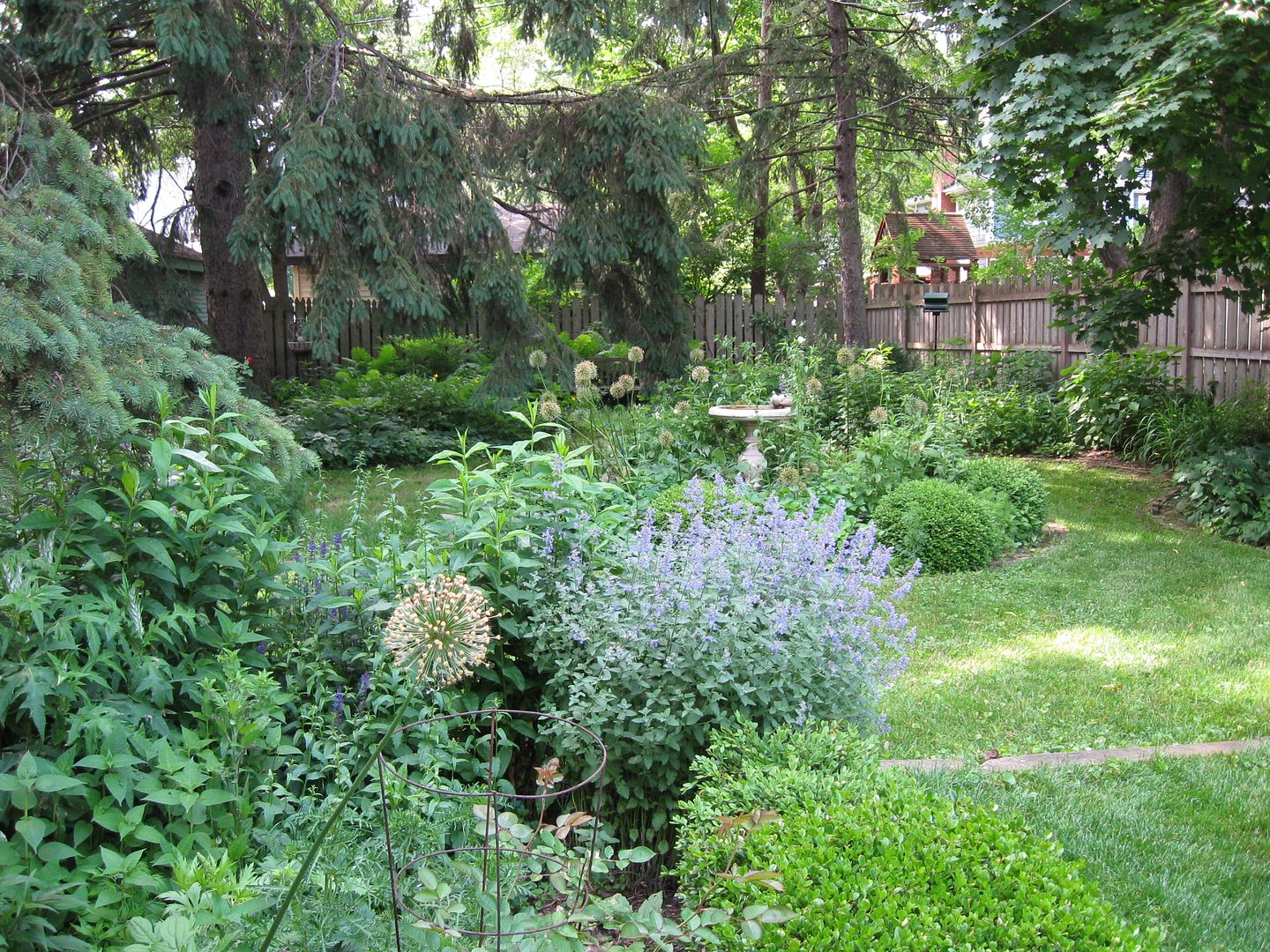 Then she taught us how to use the train. We don't have a real train in Indianapolis so this was a new, fun, scary thing for us. A real live train where we could sit -- or, in our case, stand -- that went fast and had bathrooms and everything. We owe special thanks to the conductors for failing to ask for our tickets that we hadn't bought. We chatted on the way to downtown Chicago and made the appropriate out-of-towner rubbernecked gawking as soon as we hit the pavement.
Lace already summarized that night
in our Nightly.net Live! thread
, so we defer to her on that:
Fri - Took the train downtown. Walked around the loop and admired much free outdoor art including The Calder "Flamingo"...
Alexander Calder's Flamingo sculpture, descendant of the Acklay: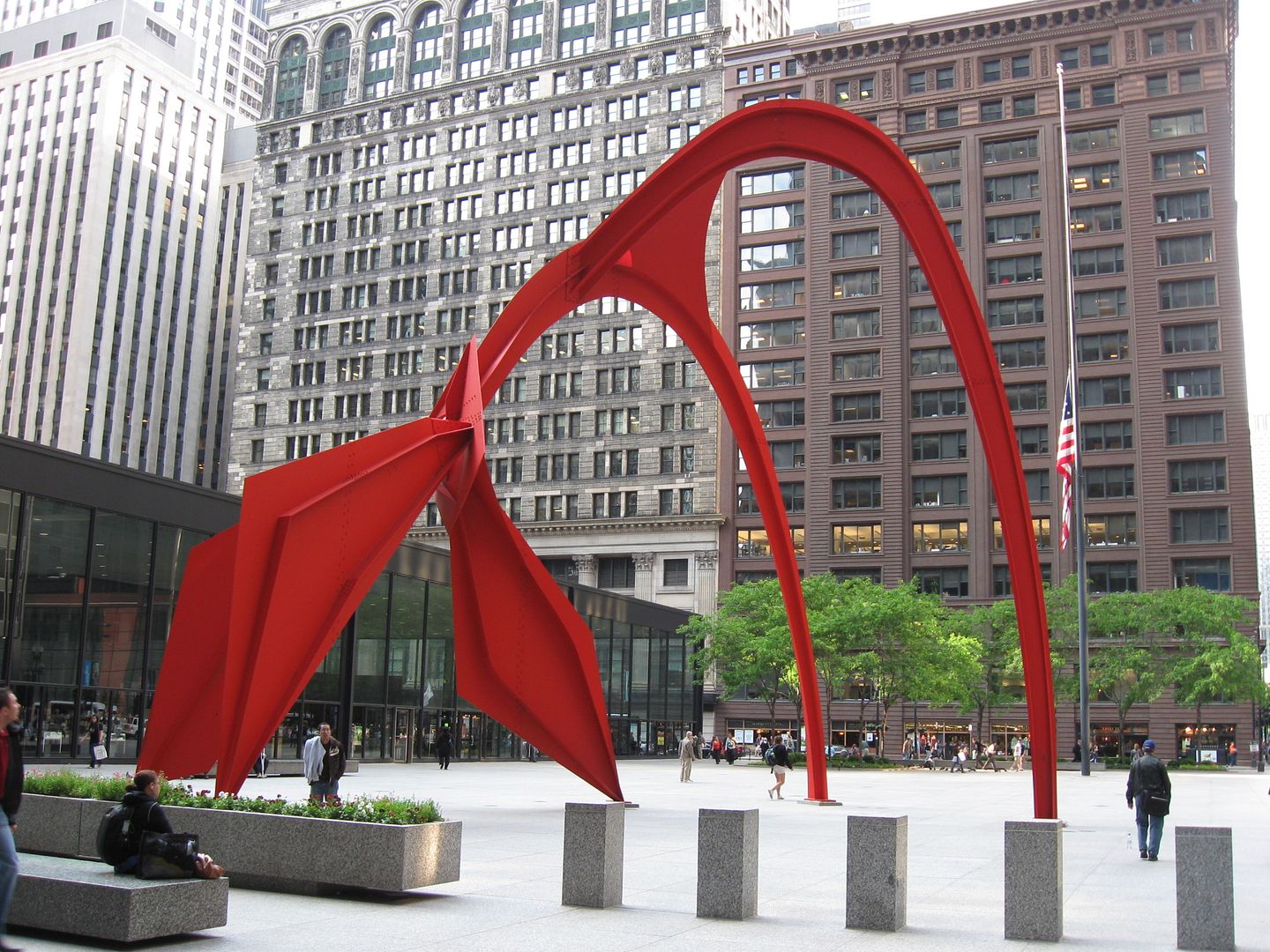 ...the stock exchange, early skyscrapers, and the "Cloud Gate" (aka The Bean)...
Large reflective sculpture more impressive than any bean Boston cares to offer:
All its surfaces are like funhouse mirrors reimagined as modern art. You can see me, JC, my son, and Lace reflected and rudely unflattered.
The Bean, side view: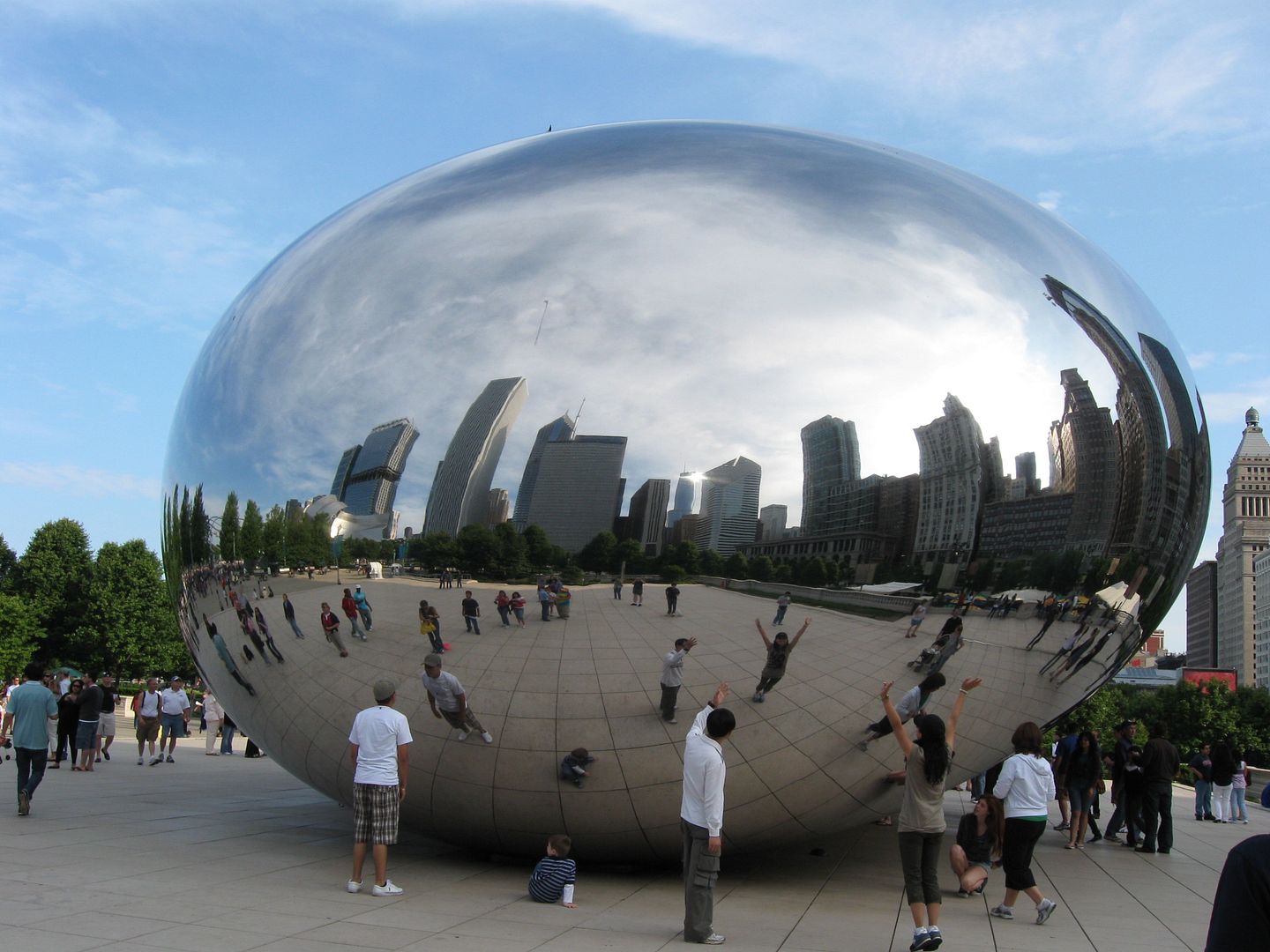 Millennium Park is also equipped with the Crown Fountain, a pair of rotating digital photo-art towers with strategically installed horizontal geysers that simulate what it's like for a real Chicagoan to spit on you:
...as well as the former home of Marshall Fields (for a bathroom break). We thought of you, Smitha [Andorus] -- there was an orchestra playing, FREE, at Millenium park, maybe the description will make sense to you: "Bernstein's celebration of urban waterfronts is paired with Shostakovich's monumental hymn to Russian forests in a tour-de-force of music evoking nature". Ummm...okay. Sounded like music to me!
Then we walked around downtown looking at sculptures and architecture as Lace played tour guide, identifying buildings, telling us about the city, pointing out the Dunkin Donuts franchises on every other corner. Chicago is a city of many corners -- some are unique, but many others repeat the same businesses over and over like a Hanna-Barbera background. We ate dinner at a place called Potbelly Sandwich Works, a sub shop with old-tyme rustic big-city ambience. I really liked it, but I was sad when we walked past two more just like it later that night.
After a quick dinner, the grand finale was a short subway ride back to the Sears Tower, where we watched the sun set from the 99th floor. You could see forever, and as the street lights go on it seems the city stretches to the horizon in all directions (it pretty much does). Even JC had fun, and she's not a fan of heights. Good evening for viewing, though, even if we forgot to jump as the elevator started its descent again.
Mandatory IT'S-REAL-BIG closeup of the Sears Tower.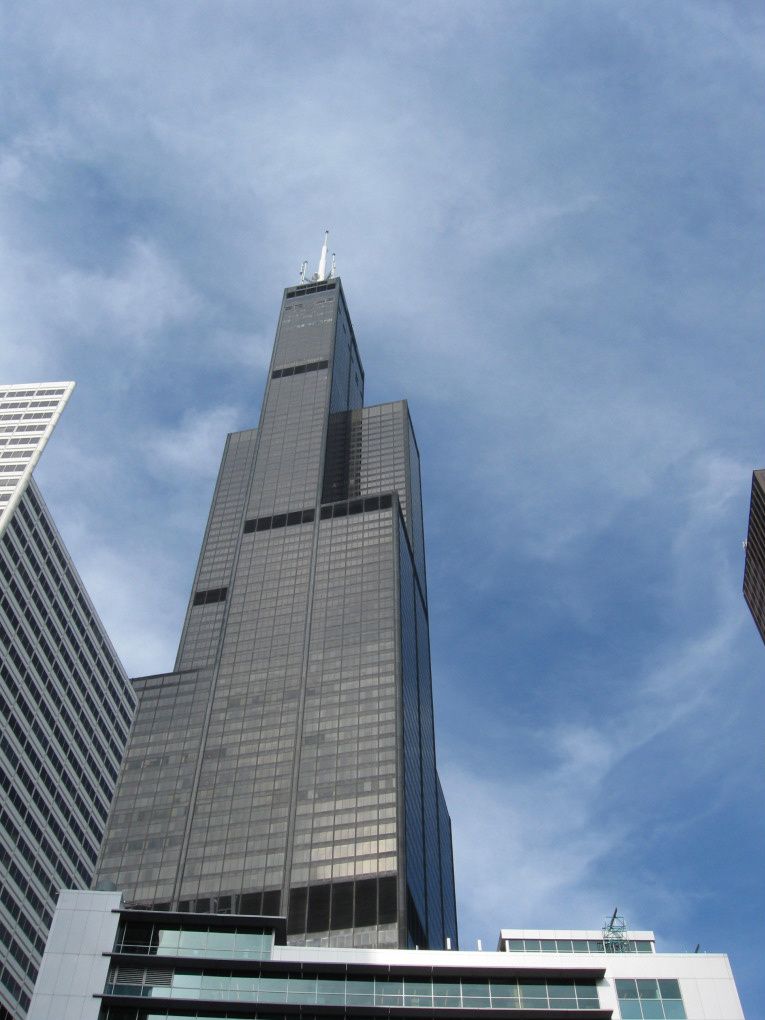 One of Chicago's independent tourism peddlers was in the right place and time to sell JC a few $1 postcards before entering. The line was short and we amused ourselves by a standee of President Obama that told us how many Obamas it would take to match the height of the Sears Tower. After entering the elevator, we watched a little monitor show us other world-famous buildings such as the Taj Mahal and the Eiffel Tower and letting us know when we reached their respective heights in our journey up (but failed to tell us when we'd passed Obama's own height). It distracted us from our ears filling up with pressure.
Lace pointed out buildings of interest from the top, such as the
Chicago-Sun Times
,
Chicago Tribune
and the building that appears in the opening credits of
The Jeffersons
. Some buildings featured rooftop greenery that, according to Lace, the city encouraged with tax incentives for the sake of saving the environment and HVAC costs and such.
One of many views from the top: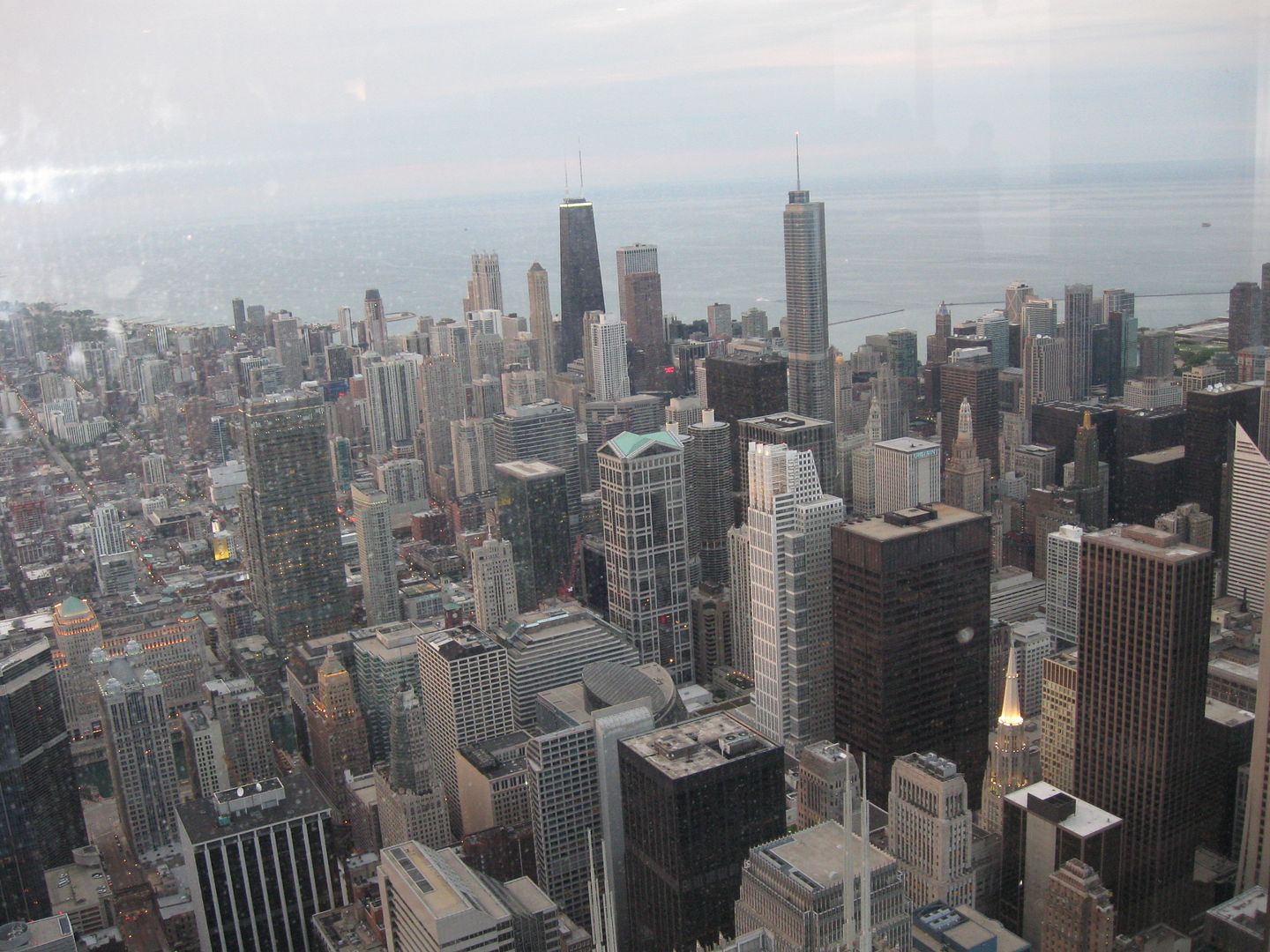 By the time we returned to the Earth's surface, it was well after 9 p.m. We hung out in the nigh-deserted train station until a late-late train came to our rescue and returned us to Riverside. We parted ways with Lace for the time being and returned to our hotel up in Oak Brook's fancy business district, where somehow AAA had gotten us a steal of a deal. It was posh enough and fawning enough that I'd be curious to know what they did wrong to miss out on a fourth star.
To be continued!