As most of you know, it is now official - Wrestlemania's 25th anniversary is going to be held RIGHT HERE in Houston on 4/5/09! This will be H-Town's 2nd Wrestlemania in eight years, following up Wrestlemania 17 back in 2001. Instead of being held at The Astrodome as WM17 was, the event is going to take place at the home of the Houston Texans - Reliant Stadium.
And most importantly, which is largely why this thread is being created, we've got multiple Nightly members planning to attend. This makes it fun (and informative) to keep track and discuss it leading up to the event itself. Maybe all of this material will convince some more of you to head out this way for the show who may have otherwise not planned on it!
What to expect in this thread:
LOTS of visuals. I figure I'll start in and around the stadium itself and branch out as I feel necessary or as requested by those who may ask.
Your typical (and premature) Wrestlemania 25 card and storyline speculation - it's NEVER too early!
Updates on all local on-goings related to the event, including but not limited to promotional material leading up to the event within the next year, live appearances of any type, news on fan access events as well as on the press conference, Hall of Fame information, etc; if it has to do with WWE being here in Houston or has some direct involvement with Wrestlemania 25 weekend, it'll be here.
Various tidbits on the area at and surrounding the stadium, parking, hotels, nearby restaurants, etc.
Misc. bull**** - WWE has done lots of cool **** here in Houston, and I'll be poking my head into this thread with a rambling here and there or a historical fact or some crap. I want to have some fun with this.
If you're headed out to the event, join in! Contribute if you wish, or request specific info. Don't see something that might fit in here and feel like looking it up? Do so! If you're not headed out to the event, discuss it anyway...'cause you're gonna watch anyway.
--
For starters, here is a bit of photo perspective to give you an idea of how the stadium and some of its surrounding area looks:
--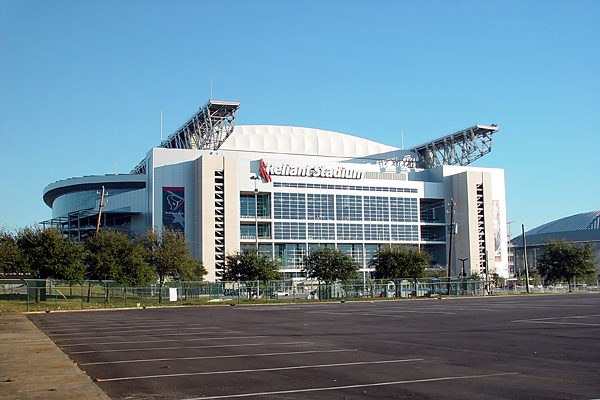 Here is a view of Reliant Park, with the lovely Astrodome standing nearby, from the Kirby Drive view.



An arial view of Reliant Stadium and the Astrodome side-by-side. Kirby Drive* can be seen running vertically along the lefthand side of Reliant Stadium.

* - I point this street out because it is accessible from both 610 and 59, which means one of either two travel options will intersect with this street and can get you to the stadium.



This photo from the 2007 Houston Classy Chassis Auto Show gives you an idea of what the stadium may look like on the inside when it isn't configured for football. Just toss in a few seats, a ring, and an entrance, and we've got ourselves all set to go.



Here's a view from inside with the retractable roof open. Personally, I hope to God they don't do this.
___________________________________
Fun fact:
In the 2005 World Series, Bud Selig and MLB requested that the retractable roof at Minute Maid Park in downtown Houston be left open during play. This was considered a big deal in Houston, where the remarkably high sound decibel level was noted by national media. The rabid fan atmosphere was considered to be an advantage to the Houston Astros, and many said that forcing the roof to be opened up would take this edge away.
Where it relates to Wrestlemania 25 is in regards to killing the live audience heat, which was said to be hurt by the open-air setting for Wrestlemania 24. Not to brag, but Houston fans are some rowdy ****ers. Keeping the roof CLOSED for Wrestlemania 25 would be a great idea.
___________________________________

The seating configuration for Houston Texans games. Not sure if the lower-most bowl retracts or transforms in any way, or if they would just add seats within the white field area.



These are your less than comfortable seating accomodations if you don't get a floor seat, but it's Wrestlemania and you're not going to care

A bigger arial view of the area now known as "Reliant Park." Northeast to the Astrodome in this picture is Reliant Center, which may host some WM-related functions. Southeast to the Astrodome is Reliant Hall, formerly known as the Astro Hall, which hosted such events in wrestling past as WCW Fall Brawl '94 (9/19/94) and the Wrestlemania 17 Press Conference (11/07/00). The building has also hosted WCW Thunder, various WCW house shows over the years, and some straight to video WWF stuff througout the years.

You can see 610 running south of the entire Reliant Park area in this picture, with Kirby Drive running vertically off to the left and Fannin Street running vertically to the right; ALT Highway 90 (also known as Old Spanish Trail) is not pictured, but runs north horizontal to Reliant Park from this view.
--
Definitely more info to come. Expect constant updates and such throughout the year leading up to the actual Road to Wrestlemania.
Edited by Exodus, 08 April 2009 - 01:08 AM.