0
Halloween Stats 2009
Posted by NumberSix , 31 October 2009 · 441 views
First TOTer arrival time: 4:25 p.m.
Final TOTer departure time: 8:25 p.m.
Total number of trick-or-treaters: 105
Gain/loss from Halloween 2008: + 105.88%
The mildest October 31st we've had in years encouraged all the kids who stayed home last year to come out and beg. It also helped that several local churches (ours included) offered no counterprogramming this year, such as the ever-popular Trunk or Treat, no doubt due to budget issues. Three cheers for recession.
No way could I log every costume this time around, though I'm certain too many of them were just face paint and street clothes, and even more skipped the face paint. (To the girls out there: wearing all the jewelry you own does not count as a costume unless you also shave yourself a mohawk and commence pitying the fool.) The seven junior high students who dropped in prematurely at 4:25 while the sun was still in full effect wore few affectations but at least were creative enough to introduce themselves as the Goonies. I accepted that, though their eagerness to beat the rush and violate the sacred Halloween code (i.e., wait till the sun's
trying
to go down first) meant they all got stuck with the candy at the top of the bowl, not the good chocolaty stuff at the bottom reserved for any stragglers at the night's end and my family the next day.
Costumes I managed to record:
Two Jango Fetts
One Darth Vader (but no Jedi)
Two Optimus Primes
Two Bumblebees
One Megatron
Two Spider-Men, one of each color
Batman (but no Heath Ledger Jokers this year)
Big Bird (and other assorted non-character animals)
nurse
hippie
Michael Jackson
Snake-Eyes
Most creative costumes:
Ghostfreak from
Ben10
Psycho Mantis from
Metal Gear Solid
Whoopee cushion (I don't mean he had one attached to himself; I mean he was dressed as a giant orange pillow with the word "WHOOPEE" across his chest)
I recall two parents being dressed up: one as a 19th-century marm, the other as a Red Riding Hood more befitting an adult key party than a children's occasion.
Before the big night, the wife and I walked a lap around our edition to see what the neighbors had done. Out of 100+ homes nearby, eleven had gone to lengths I considered worth photographing. One couple took issue with us photographing their decorations and/or their house, and I'm still a little jittery after that exchange, so I'll probably just hold on to those till next year. Our setup was like so: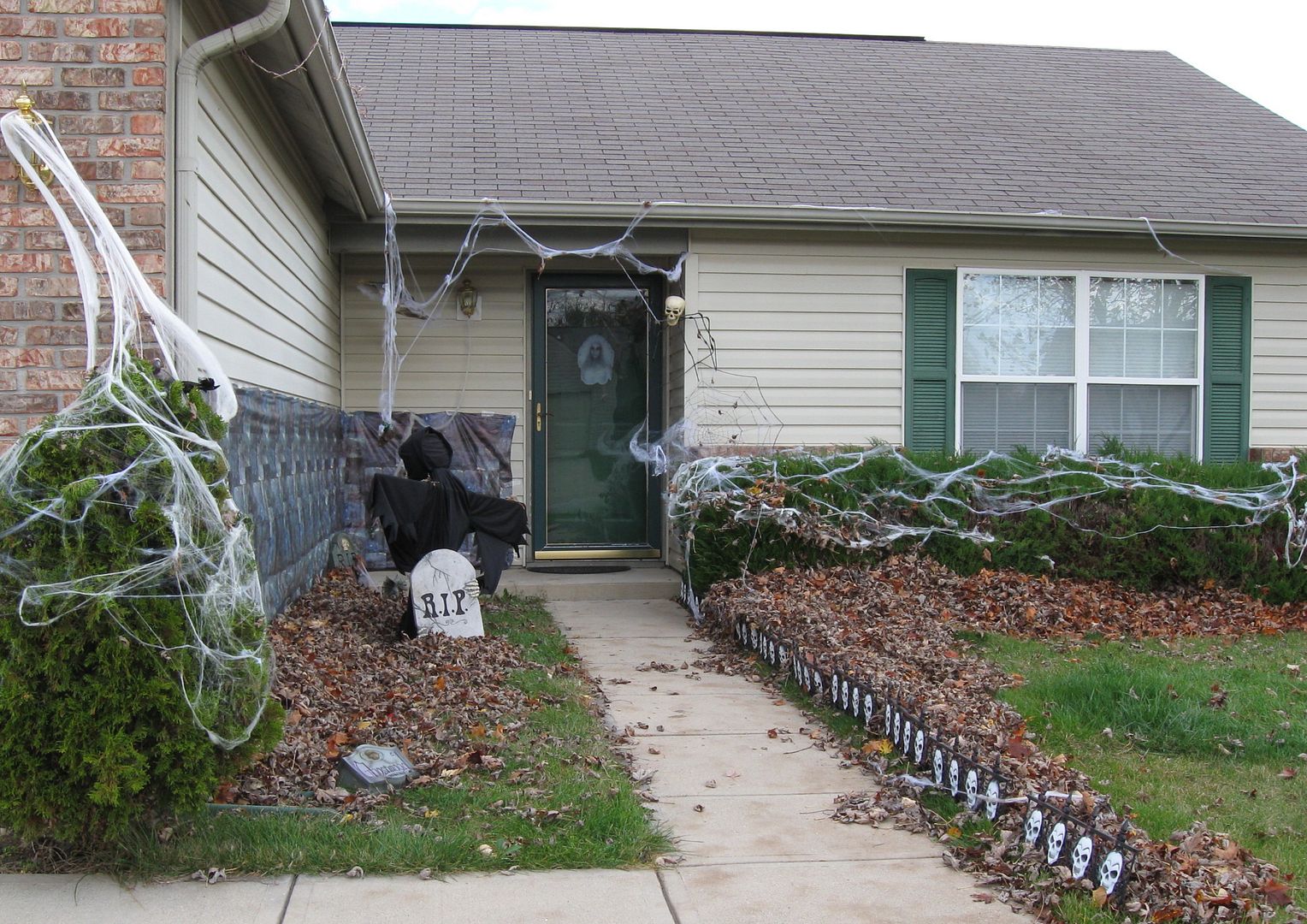 The cobwebs were a source of family debate and may or may not return next year, especially considering how poorly they fared in this week's bad weather. The plastic dungeon-wall tarp attached to the siding on the left was THE absolute biggest pain in the neck I've ever encountered in our three years of outdoor Halloween decorating. The barbed wire blew up into the gutters and nearly out of sight, and I was too tired by then to drag the ladder back out of the garage to retrieve it. Everything else worked out better than I'd hoped -- two noisemaking attractions, creepy animals trapped in the few webs that looked effective, a few judicious gravestones, a grim-reaper scarecrow using one of my son's old costumes and an electric light-up plastic jack-o-lantern, and a combination of fencing and natural autumn decor to add just the right touch of menacing claustrophobia.